Race Report – By Katie Webster (aka Wonder Woman)
The London Landmarks Half Marathon is a new race, the inaugural one being held in 2018. This year, myself, Lucy Tapper-Howe and Clari Worth decided to sign-up as a warm up for our Marathons in April.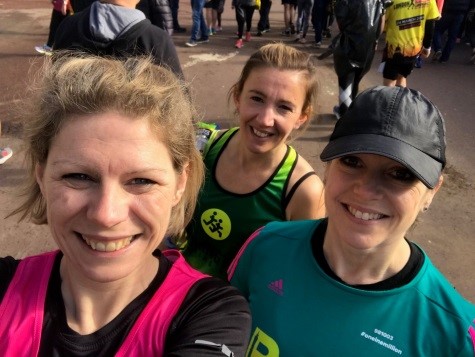 Despite the early start (6:30am), we set off from Oxford with much enthusiasm and excitement, the weather was surprisingly warm and the atmosphere at the start buzzing! Fuelled on the free coffee from Café Nero, we set off to get in our pens, only to get caught up by the sheer volume of people so we started a little further back than we had planned, however once we got into a stride after the first few miles, I felt strong and comfortable. The race started on Pall Mall and finished by Downing Street taking in the fabulous views of London's most iconic landmarks including Big Ben, St Paul's Cathedral, Nelson's Column, the Gherkin, the Shard, the Tower of London and the London Eye.
There was a great party atmosphere all the way round, it's a relatively flat route, plenty of support and charities cheering everyone on and the sun was shining! I was running in aid of Breast Cancer Care so it was great to have their encouragement particularly at the 11 mile marker. There was even a team dressed as the Landmarks themselves, I passed The Shard, St Pauls and the London Eye people, superb effort. I actually felt very emotional coming back along the South Bank, as it brought back all the memories from when I ran London Marathon in 2017. When I finished I was really pleased with my time and excitedly waited for the ladies who were just behind. Once I reached the end of the Mall, I looked down towards Buckingham Palace and suddenly felt quite nervous at the thought of being back there again in a months time, as I am running London Marathon again this year.
I would highly recommend LLHM for anyone considering a half marathon next year, a really well organised event and a great medal and t-shirt too! The date for next year's event is confirmed as Sunday 29 March 2020!
Results
| | | | |
| --- | --- | --- | --- |
| Position | Name | Category | Time |
| 1983 | K. Webster | LV35 | 1.41.28 |
| 2541 | L. Tapper Howe | LV45 | 1.47.20 |
| 3879 | C. Worth | LV40 | 1.59.19 |
London Landmarks Half Marathon – 24-Mar-2019 (r)