by Jim Ruddick
This race often signals the proper start of the road race season as the first Grand Prix (of 15 races throughout the year), and there was an air of excitement among the KRAC runners. We had a great team of over a dozen runners and as we began to arrive we were quick to create a little huddle of bags, deep heat and energy gels.
In the build up there was much talk of a 'killer hill' at the 11th mile mark, and just how hilly run this run really was. Although this was my first time at Banbury, I wasn't too concerned, as for me this was a shorter run than I'd planned on my marathon plan (I was lucky enough to win the club place for the London Marathon this year!), and as with other runs I've done, I feel I can get round most things now – albeit slowly!
The race started in a large park, and as everyone arrived ready for the start it was clear to see this is mainly a club run, with the Headington, Witney and Eynsham runners all out in force too.It was chipped timed so there wasn't a push to get over the line, and with a 400m lap of the pitch to start with it felt easy to get a sense of pace.
As we got going the jovial DJ bellowed out "looking good, only 15 miles to go!". The day itself was pretty good for running though the wind was cold it was sunny and it was warm enough for shorts and running vest unless the sun decided to hide, and then I was thankful for the thermal layer I had on!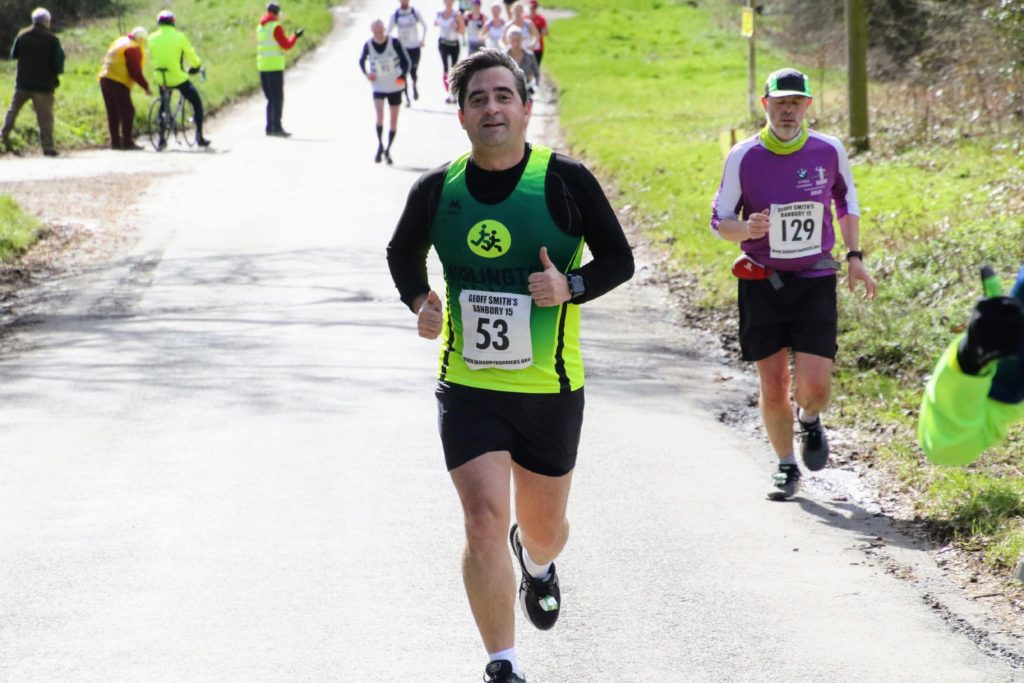 It was a surprisingly beautiful run, with rolling hills and rural scenes for almost the entire course. These scenes were a nice distraction from the feeling of rolling hills, which for Oxford based runners can be tough where can i buy ambien over the counter (797ft of elevation). It wasn't long before the field dispersed and there were some lonely moments, and others that were very social. I particularly enjoyed the banter I had with 3 Witney Ladies who were trying to do negative splits and catch a fellow Witney Road Runner, and on the whole I found everyone very friendly.
The Marshals too were really nice, offering support, and at one point we even had a marshal drive along beside us offering us jelly babies which was very kind, and it added to the feeling that the race was well organised.
Eventually after many hills that I'd thought could have been classed as steep I reached the dreaded 11 mile marker, and with Lee in my head reminding me what a killer hill this would be I trudged on, but actually it wasn't that bad, it started closer to 11.5 and didn't go on that long so I was thankful as I knew the rest of the way was downhill, making it a really nice finish.
I caught up with half the team who were much faster than me, and we compared notes. Overall everyone enjoyed themselves, and we all did really well. Heading back to the Leisure Centre I even managed to get a free massage!
Particular congratulations go to Graham Hope who secured 7th Place, and to everyone who participated there were PB's broken and feelings of positivity among the marathoners some of whom have just 3 weeks before Manchester.
Finally if you'd like to see the route and elevation click here to view my Strava run.
Here's a final picture of some of the survivors…
| | | | |
| --- | --- | --- | --- |
| Position | Name | Category | Time |
| 7 | G. Hope | SM | 1.32.42 |
| 84 | L. Rahman | V40 | 1.55.42 |
| 86 | A. Lister | V50 | 1.56.23 |
| 108 | K. Webster | LV35 | 1.59.39 |
| 112 | L. Needle | SM | 2.01.25 |
| 122 | A. Finnigan | LV35 | 2.03.47 |
| 128 | L. Tapper Howe | LV45 | 2.05.38 |
| 146 | J. Ruddick | V40 | 2.09.54 |
| 212 | C. Worth | LV35 | 2.29.01 |
| 223 | R. Rahman | LV45 | 2.37.36 |
| 224 | J. Smith | LV45 | 2.37.43 |
| 232 | K. Rhymes | LV35 | 2.43.50 |
Banbury 15 – 17-Mar-2019 (r)