By Clari Worth, Heidi Lancaster, Lu Rahman, Rachel Rahman, Katie Webster, Katie Rhymes, Jo Smith, James Ruddick, Heather Talbot and Nik Roberts
After month's of training in all kinds of weather and many long runs, members of the "KRAC Family" took to the streets of Greater Manchester by running the Marathon on Sunday 7 April. We all celebrated our achievements together sharing in the pain and elation. We summarised what we collectively took away from the event, an amazing individual and team effort.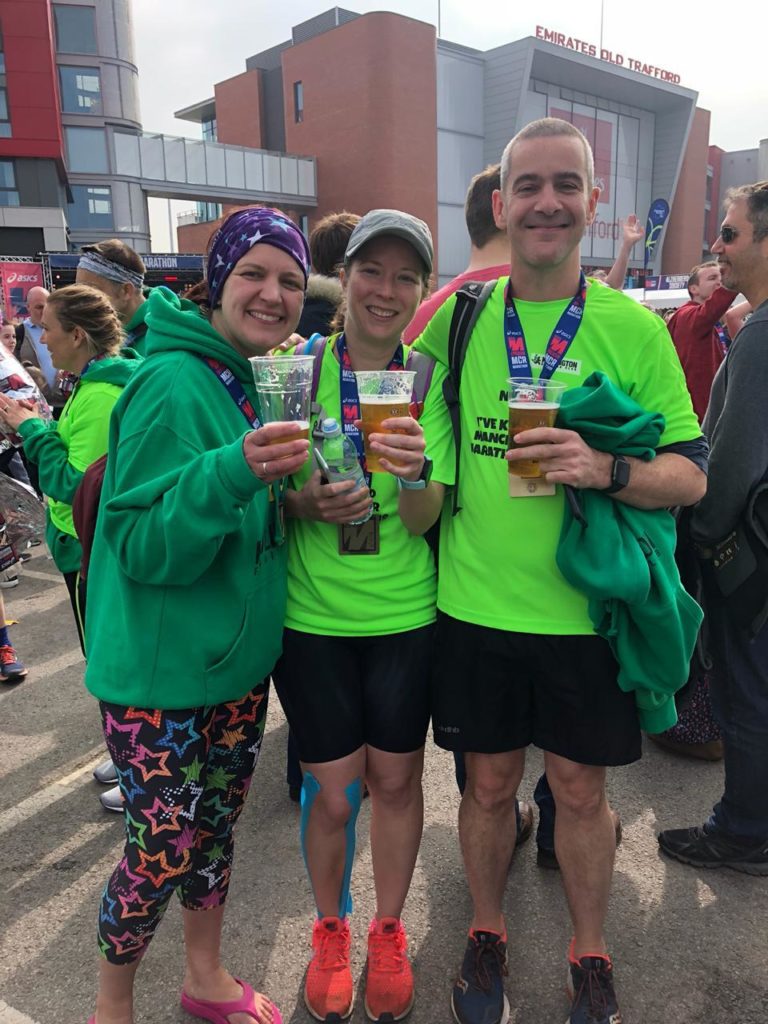 The last 4 months have been the best running experience I've ever had. New friends, new challenges and new levels of fitness. Running has helped me physically and mentally and a PB at the marathon was the icing on the cake of a fantastic few months. #Whatabloodyawesomeweekend, thanks to everyone – Nik Roberts
A day of celebration from a journey we took as part of a team and individually. The comradery in the team was brilliant and it made the long hard winter training endurable because we were all going through it together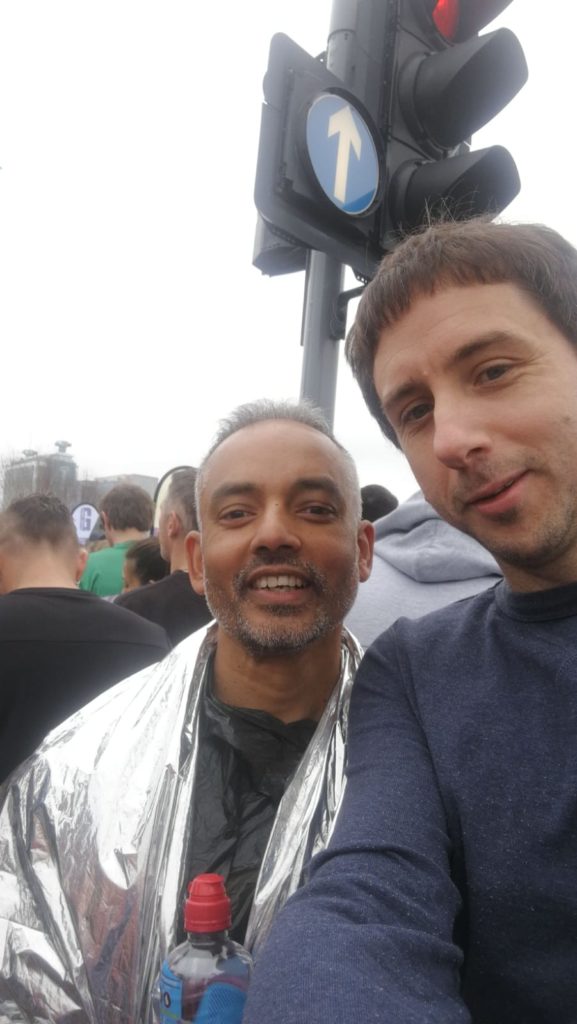 We are all chasing demons one way or another and on a sub conscience level we realise this and silently support each other. That is why I am a KRAC-ite –Lu Rahman
With it being 8 years since my last marathon it was the KRAC encouragement and team spirit that made me enter Manchester. It was so supportive having a group of us training together, going out on long runs in the cold and sharing tactics. I was determined to crack the 5 hour mark and with the support and advice from my KRAC team, I smashed it!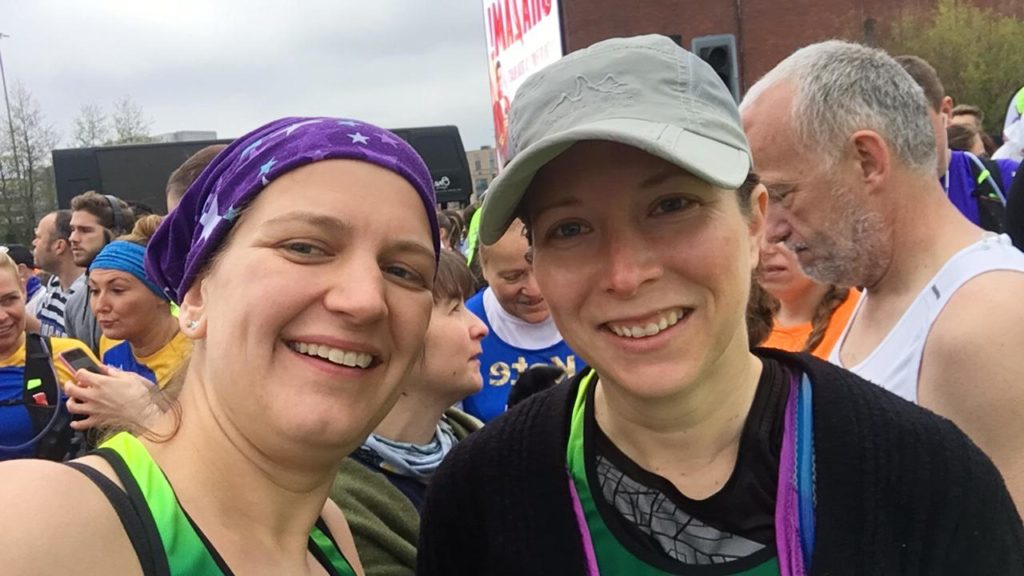 The race day was amazing, well organised and the Manchester crowd was so friendly and supportive. Crossing the line then meeting up with the team was the icing on the cake of a fantastic day – Heather Talbot
Good conditions, friendly crowd, PBs and great support from the KRACites all made Manchester Marathon a memorable experience – Heidi Lancaster
Always dreamt of doing a marathon since I was little, never thought I would be able to. Running Manchester as my first with all the support and encouragement of my running family I have achieved my dream and amazed myself with a 4.16 time. Bring on the next one! – Clari Worth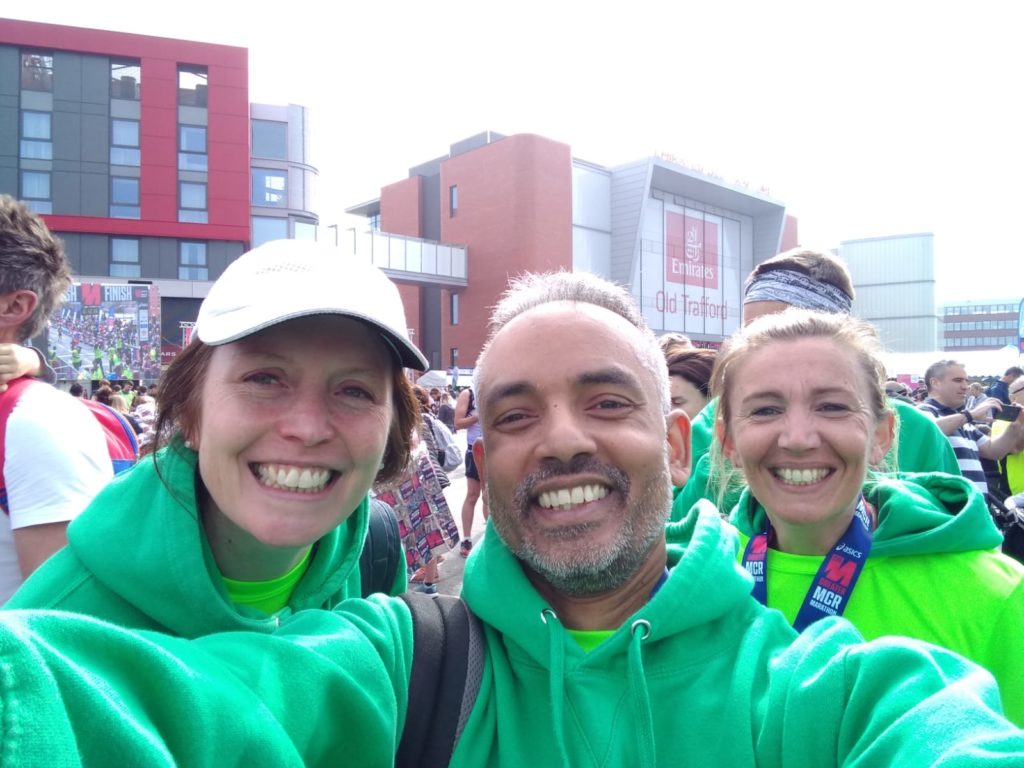 I loved every bit of Manchester marathon. For me the Group long Sunday runs and sharing the ups and downs of the training experience is what pulled me through. On the day I was so lucky that Jo and I ran together. I couldn't stop crying when I finished and am still smiling from getting a PB of 4:43:31 – Rachel Rahman
I was training for the London Marathon after winning the clubs ballot place and was starting buy brand levitra online again after 3 months of inactivity and was finding running 3 miles difficult. I certainly had no intention of running 2 marathons in April, but getting back into the club runs and enjoying everyone's company led me to signing up to Manchester marathon as my last long run before London and I wanted to share the experience with my fellow KRAC long runners. It was a perfect dummy run as I made plenty of novice mistakes (including forgetting safety pins) but still managed to get round. Thanks to all my KRAC friends! – James Ruddick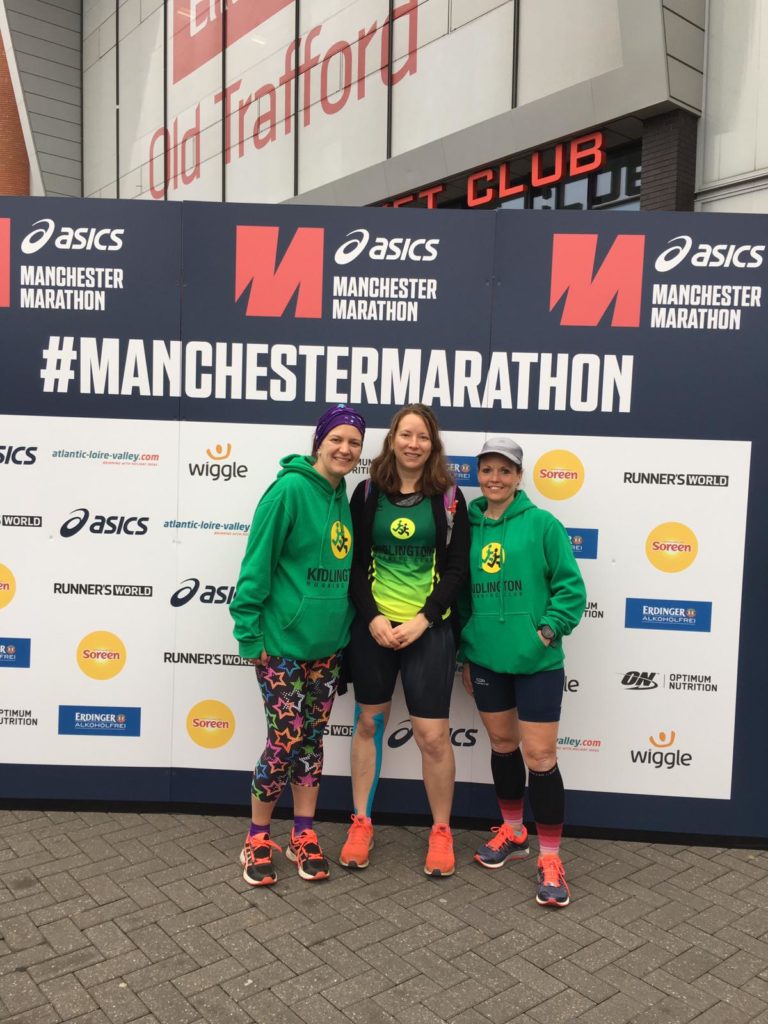 After lots of training for the Manchester Marathon I finally crossed the finish line in 4:48:33. It was an amazing feeling, particularly as it was my first one. I never thought three years ago this month when I first downloaded the NHS 5k app that I would even attempt, let alone run a marathon in the future. I still can't believe that I did it! Without the support of my family and my KRAC family it would have been even more challenging. The long Sunday runs have really helped and I'm so grateful for the ongoing advice from members of the group. The whole weekend was truly special, before, during and after the event sharing nerves, tears and celebrations. I actually felt quite deflated the day after. I ran for Cancer Research UK and am extremely grateful for the donations that have been made. It was a good incentive to run for the charity knowing that the money raised will help people – a charity very close to my heart and family. I enjoyed it so much that I have booked to run it again next year and I am determined to try and get a PB of 4:30 – Joanne Smith
For me, getting back to training to take part in my 5th marathon and first once since illness has been incredibly hard, emotionally and physically but with the support of everyone and having the reassurance to succeed was such a huge help to me. Although the route was a little mundane, the atmosphere was electric and dressing as "Wonder Woman" as part of my charity commitments helped me get round and achieve a new PB for sure. In total this year I am running 5 Marathons to raise funds for Breast Cancer Care and Maggies Cancer Centres – Katie Webster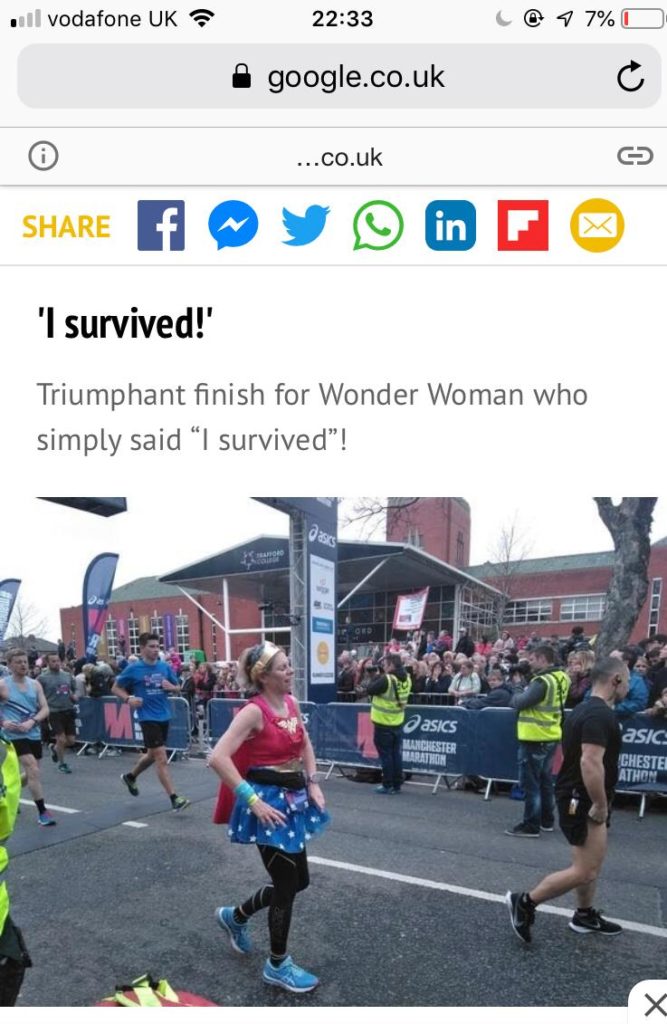 | | | | |
| --- | --- | --- | --- |
| Position | Name | Category | Time |
| 3376 | K. Webster | LV35 | 3.33.22 |
| 3763 | L. Rahman | V45 | 3.32.01 |
| 5411 | L. Needle | SM | 3.51.43 |
| 6789 | H. Lancaster | LV45 | 4.00.53 |
| 7119 | N. Roberts | V45 | 4.04.03 |
| 8046 | J. Ruddick | V40 | 4.23.14 |
| 8091 | C. Worth | LV40 | 4.16.52 |
| 10284 | R. Rahman | LV45 | 4.43.31 |
| 10376 | C. Bickell | V45 | 4.47.34 |
| 10604 | J. Smith | LV45 | 4.48.33 |
| 10693 | H. Talbot | LV35 | 4.48.34 |
| 12085 | K. Rhymes | LV35 | 5.18.30 |
Manchester Marathon – 07-04-19 (r)