Welcome to Kidlington Running Club!
Welcome to the new and improved home of Kidlington Running Club!
We are a friendly, mixed ability, social group of runners located in Kidlington. We have training nights every Monday, Tuesday, Thursday and Sunday. We don't care if you run 5 minute miles or 11 minute miles, we're sure to have a training session right for you.
If you're a runner, or looking to get into it, located in or near Kidlington, then please feel free to contact us using the details below, we are always looking to recruit new members, and nothing is more motivating than having other people to run with!
Feel free to try out a few sessions with us, you don't need to commit to becoming a member. If you do decide to join us and become a member (and we hope you will!) then there's no commitment, you can come to whichever session you'd like.
You must be 16 or over to join a club run. And please note that under 18's must have a Parental Consent Form signed before they will be permitted to run with us and, for their first session, be brought and collected by a parent or guardian. As a guide, new runners should be able to run 30 minutes without stopping. A suitable running background would come either from active sport at school or being able to complete a park run (speed immaterial).
Many of us enter road races throughout the summer, and we hold a "Club Championship" to encourage as many people as possible to join us! In the winter we take part in the Oxon cross country races, and have a club championship for that too.
Mota-vation 2019
The Mota-vation Series for 2019 is now complete.  Thanks to all those who took part and to those who helped organise and run the series.
Final results for 2019 now posted here, where you can also find provisional dates for the 2020 series.
Winter Talk Workshop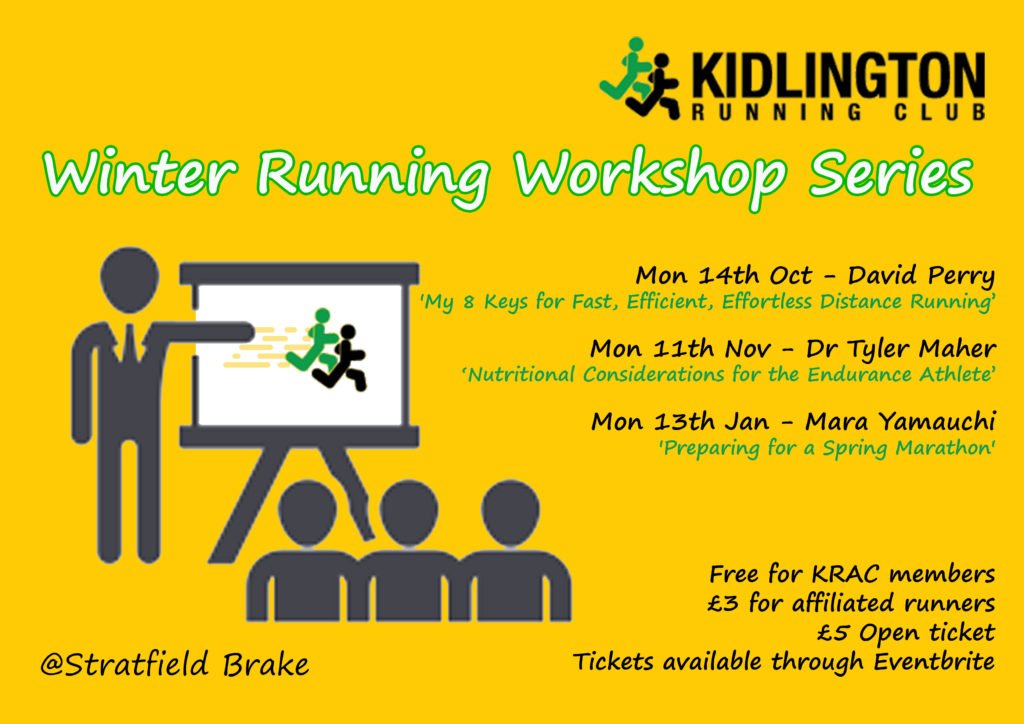 New for 2019 – a talk series that will help any runner improve just through listening!
We've brought together 3 amazing speakers to cover topics that every runner could do with knowing more about – running efficiency, nutrition, and marathon preparation.
Click here for more information, or get tickets now.
The Miracle Marathon
Kidlington Running club are raising money for the Cystic Fibrosis Trust at a unique running event at the Iffley Road Race Track in Oxford. The idea is that groups of runners will see how fast they can sprint a marathon in relays of 200m.
This year it was run on Sunday 14th July and we had 28 runners all running a mile (broken into 200m relays). We managed a marathon time of 2 hours 16 minutes and 1 second, and raised £563.03 (at time of writing!)
Click here to find out more about the Miracle Marathon or read the report and see some photos!.
Join Us for a Training Run…
Anyone is welcome to come along and join us for a run, see what we're like (we're sure you'll love it!) and get a general feel of what fun running with a group like ours can be. Click here to find out about our next training event.
Our Next Social / Party!
Christmas Party – Cherwell Boathouse – Friday 6th December 7.30pm
Can't wait for the next social? Click here to find out when we're next having a party…
We're Social Runners – Get Connected…
We love running, and we love talking about running! As a club we like to share training tips, catch up with each others successes, help motivate each other and keep in touch with each other. We do this through:
Facebook – Open group for those interested in us
(click here for the members only group page)
Instagram or click here to see our club photos here on the website
Strava (private group – members only) – see group stats and leaderboard here